Top 10 Sports Pub in the World
Heading to the pub with your friends to watch football is undoubtedly the next best thing to actually being at the stadium for the game.
Relatively easy access to the bar, toilets and no money lost on a ticket if the result doesn't go your way.
With that in mind, we've put our heads together to come up with a list of 10 of the best locations in the world you could frequent to catch a match. Fill your boots!
1. Box Park, (Wembley, Shoreditch or Croydon) London, England
Some of the places to be during the 2018 World Cup, if you're after a stadium-like atmosphere together with an eclectic group of football fans, this is the place to be. Just be careful of wayward pints being flung when a goal goes in!
2. Penalti Lounge Bar, Madrid
A bar that focuses on the experience of watching football with your friends. A friendly and welcoming atmosphere for locals or tourists, grab a beer and enjoy the match just outside of central Madrid.
3. Cheers, Sydney, Australia
A sports bar known for friendly service - and the occasional hosting of Liverpool Legends signing session - Cheers has also been refining its menu to celebrate everything you know and love from countries around the world, whilst showing major sporting events from across the globe too.
If watching the match and having something to eat other than a greasy burger and chips is what you're after, Cheers is for you.
4. Real Sports, Toronto, Ontario, Canada
All the major sporting events in supersize. Real Sports Bar & Grill's mantra is 'the bigger, the better' - and you'll see that when you walk in.
Also the host of Jermain Defoe's press conference upon signing for Toronto FC, the bar boasts a 39-foot HD big screen, 199 HD TV's, a wide range of beer and over 100 draught options so you'll be spoilt for choice in more ways than one.
Oh, and if you're hungry, how about trying one (or a few) of their ten award-winning wing flavours...
5. The Sportsman, Bar and Grill, Bangkok, Thailand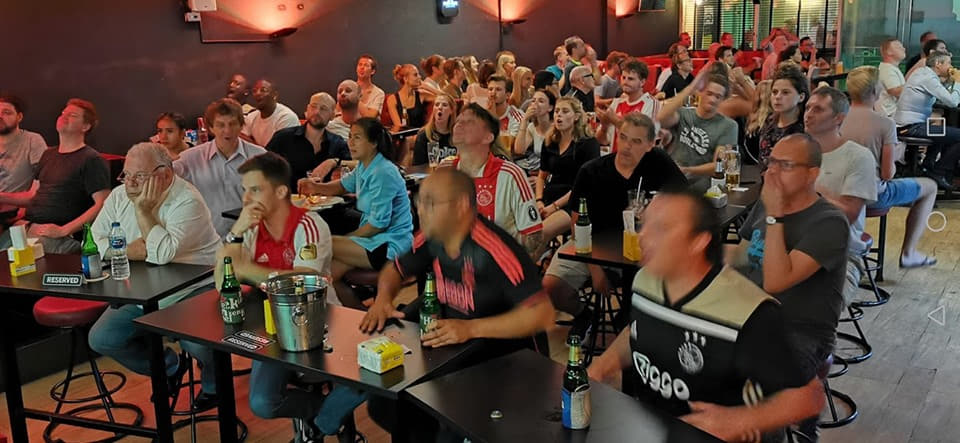 With 26 TVs and eight HD screens showing everything from Premier League football to Eredivisie, head to The Sportsman if you want to keep an eye on more than one match at a time. Screens across two floors might mean you won't know where to position yourself but at least you'll have the choice.
6. LxF, Buenos Aires, Argentina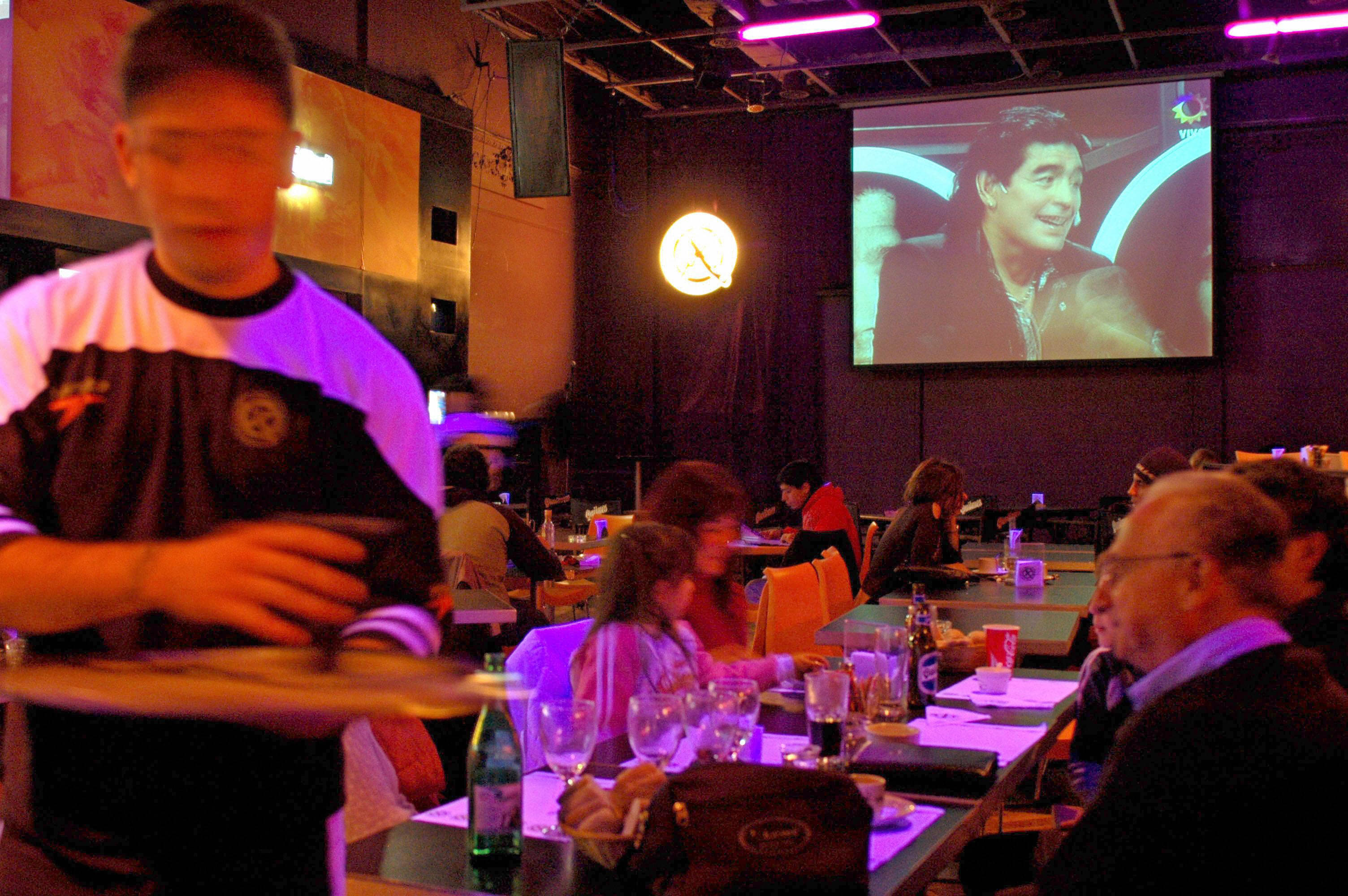 Locos por el Futbol (LxF), which translates as 'crazy about football', sums this bar up. A great place to watch the game surrounded by passionate locals, it is a little on the pricey side but the tapas and stylish interior sets it apart from other locations.
7. Hall of Fame Sports Bar, Kuala Lumpur, Malaysia
More than a typical sports bar that just shows the game. Try your hand at darts, partake in a pre-match foosball contest or get your mates together for a round of beer-pong before settling down the enjoy watching 90 minutes of action on a big screen projector or one of the many TV screens around.
8. Champions Sportsbar, Munich, Germany
Admire the sporting memorabilia adorning the walls and catch the match on one of 15 HD screens or the huge HD TV Wall at Champions. The speciality American-style menu will satisfy any hunger pangs in this welcoming and relaxed sports bar.
9. Famous Three Kings, Fulham, London, England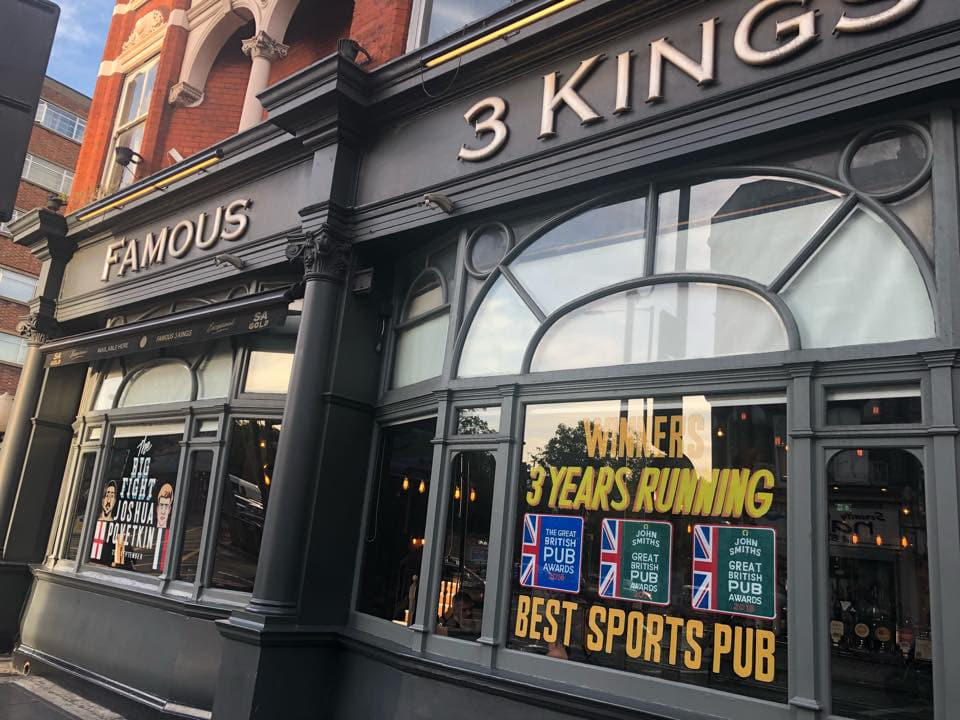 Voted Sports Pub of the Year in the UK three years in a row (2016-2018), Famous Three Kings is one of the most popular sports pubs in London for good reason.
The spacious pub in West London has three projectors and 15 plasma screens showing sport from more than 71,000 TV channels and prides itself on creating a great atmosphere by showing a variety of sports from across the world whilst promoting friendships, friendly rivalries and community.
10. Smithfield Hall, New York, USA
One of New York's Premier sports bars and grills located in the heart of the city, not far from the world-famous Madison Square Garden. Surrounded by vintage sports photos and paraphernalia when you walk in, any sport fanatic will feel right at home.
With a 'Football Schedule' section on their website and strategically placed HD TV screens to make sure your view is undisturbed no matter where you sit, Smithfield Hall take your viewing experience very seriously and have a comprehensive menu to choose from.