[LIVE THE GOAL] Highdee Kuan – Actor, Artist and Avid Football Fan
Ramsey Abushahla of Urban Pitch
Actor, artist, and avid football fan, Highdee Kuan continues to find the perfect balance between all three in the bustling city of Los Angeles. We catch up with her to discuss her latest projects, fashion tips, and why she rooted for the Dutch national team over the United States in the 2019 Women's World Cup.
When it comes to glamorous careers, few have the image of glory that acting does. But underneath the gilded layer of Hollywood gold is rough concrete. Last-minute casting calls, 12-hour set days, and the grind of auditioning are realities to even the biggest of movie stars.
It's no different for Highdee Kuan. Although she's well-versed in multiple art forms — including ballet and fashion — Kuan has fully turned her professional focus to acting, and the dividends are beginning to show. Her dedication and persistence have led to her getting upcoming roles in both TV shows and feature films, so it's safe to say she's been keeping herself busy. But that doesn't stop her from maintaining interest in two of her favorite hobbies — fashion and football.
We last spoke to Kuan in 2016, and while her hustle remains the same, she's been up to quite a bit in that three-year span. We were recently able to catch back up with the multi-talented actor, where we discussed her recent projects, football's growing influence on fashion, and the 2019 Women's World Cup.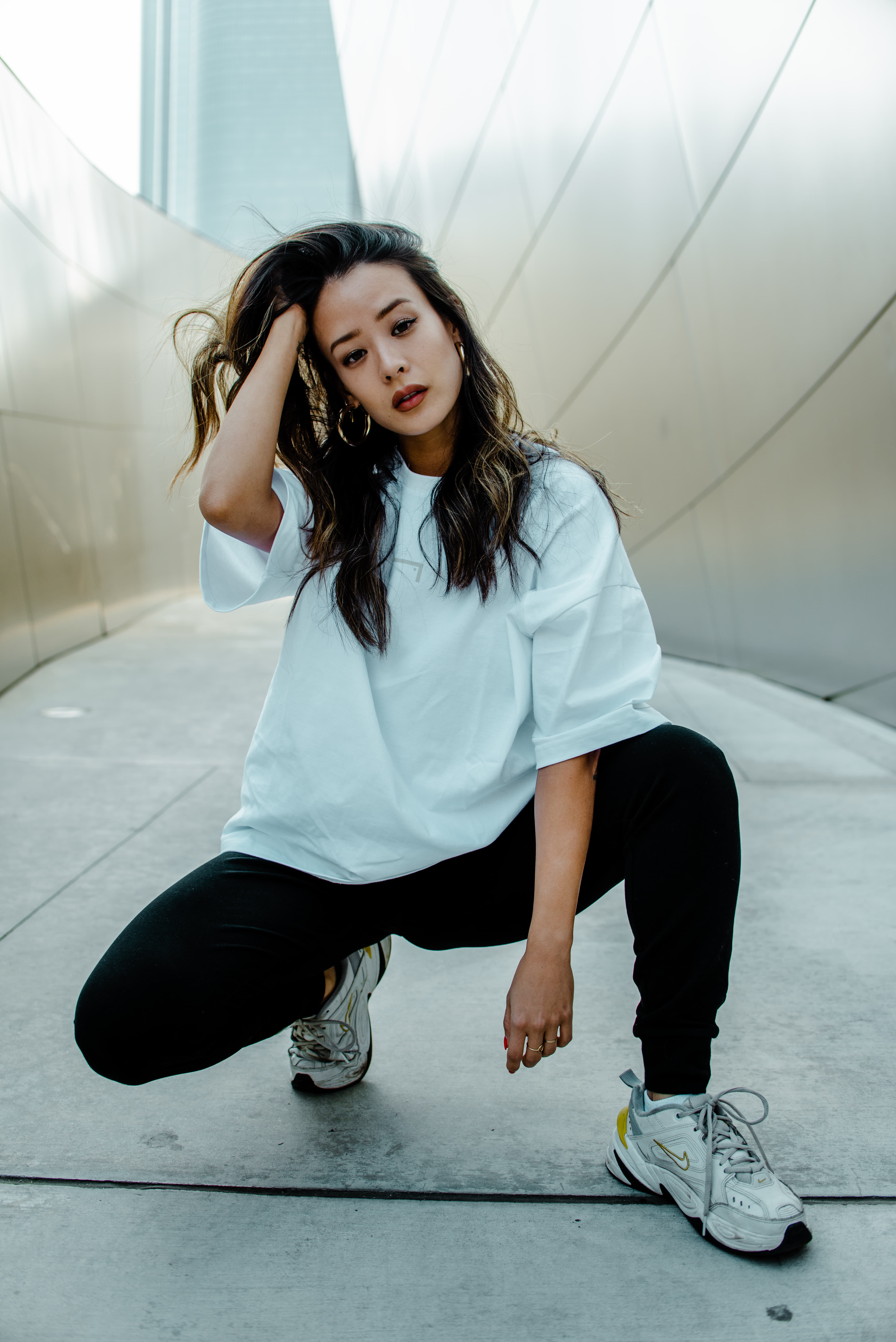 Urban Pitch: It's been a minute! What have you been up to in the last few years?
Highdee Kuan: I'm still pursuing acting, that's still my main hustle and passion. As for projects, I just did an episode of a Netflix show called You — the second season of that should be coming out soon. Other than that, it's still pretty much a daily grind of auditioning, meeting people, taking classes, just that LA actor life. It's really not that exciting!
Last time we spoke, you discussed some of the challenges acting presents, most notably all of the rejection. How have you been able to deal with that as your career has progressed?
I think at this point of my career, I'm not in a position to be very picky about the roles that I get. I'm grateful for every opportunity that I get, but they're not always the most complex or as layered and dimensional that I want them to be. But I'm just grateful to be working.
As you're leveling up as an actor, the "nos" get bigger. You're going out for bigger roles, but that also means the rejections get so much harder, and there's more heartbreak. I just have to give myself a day to be really bummed about something, and then move on. I like to keep my personal life pretty active with hobbies, friends, and working out just to keep my mind sane.
Speaking of hobbies, fashion is something you've been into for a while — from blogs to your Dirty Old Dutch Man line. When did your interest in fashion begin, and how did it start?
It started when I was super young. I would always be on these forums and talk to other girls from all over the world and ended up starting a blog. I was blogging all throughout college, and as my other interests in life developed, I realized I didn't want to just blog.
But when I started my own line, I didn't realize how hard it was — production wise, dealing with customer service, shipping everything out — and I didn't have a good enough system in place. I was always so overwhelmed and stressed and at one point I was like this is not fun for me anymore. So I put it on the back burner. I realized that I should stop trying to turn all of my hobbies into businesses.
What is your take on football's growing influence on fashion, and brands who are merging football apparel with streetwear?
I think the idea of street style being the most predominant thing in our society is so fascinating. I see it as the democratization of fashion. It becomes a reversal, as these big fashion houses are being inspired by the people rather than us trying to achieve this lofty goal of wearing designer clothes.
What do you think about GOALSTUDIO line you were able to get your hands on, and how would you style it?
I love this! It makes me want to wear this while I'm playing football, but I don't play football anymore (laughs). The vest is my favorite one, it's like a conversation piece.
You're a noted fan of the Dutch national team, as that's where you grew up. Both the men's and women's teams have exciting players and are achieving success — did you have a chance to take in any of the games this summer?
I did — I was called many names because I posted on my Instagram that I was definitely rooting for the Dutch team over the U.S. in the Women's World Cup. Even though I live here now, I'm always going to root for the team I grew up rooting for.
I think it is really exciting that the U.S. women made it that far though. Finally people were talking about it and the women were getting the credit they deserve, because they're all amazing. It was this perfect storm. But at the end of the day, I'll always root for Holland — sorry, not sorry.
Who are some of your favorite players to watch?
I love Megan Rapinoe. Even though I was rooting for Holland I thought she was a class act. She is so inspirational both on and off the field and that's something I always was super drawn to. Even with players I grew up with like Ruud van Nistelrooy, people that were more than the game.
But for me lately, there hasn't been too many other players like that. You obviously have your Ronaldos and Messis, but I haven't had that childlike fascination around a player lately. It's also hard to watch games here because of the time difference. I used to wake up at like 4 a.m. to go to the pub, but I can't do that anymore. I also don't have that community around me so it's harder.
What are some upcoming projects we can look forward to from you?
When I talked to you three years ago, I was working on this film called Proximity, and that should finally be released soon. It took a while for everything to get finalized financially, but I did a behind the scenes interview for it last week, and it should have a limited theatrical release next year.
Photos by Ashly Nicole for Urban Pitch.